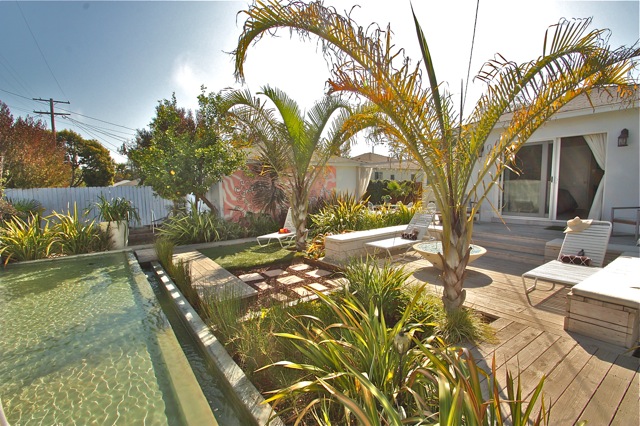 Paradise Backyard: Fire. Water. Air. Earth.
I like to call this the "grown up" backyard. Though kids go crazy here, it's more for the big kids to sit around and eat appetizers that have olive tapenade and drinks that have fresh mint and crushed ice.
The entire deck was made out of Trex, a wood-alternate decking, that is incredibly gorgeous and eco-friendly, and the fire pit is connected to a gas line underneath the decking.  Easy to enjoy and no ashes. The are small glass pieces in the pit, that give off a perfect amount of heat.
The water is a prefect 8″ deep pool with a fountain. Yes, that's inches, not feet. You can place your lounge chair in the "pool" and let your feet hang for a dip just as you are heating up.
The sky is big and beautiful, as there are all single-level homes in the surrounding area. Plus, this is climate perfect Mar Vista, so you are 3 miles from the beach. Just far enough to get a lot of blue skies and less marine layer. Just close enough to enjoy that off-short breeze and fresh ocean air.
Plenty of earth to enjoy the triangle palms, native plants, and in the far area behind the pool are raised beds, with herbs, greens and berries in their growth mode.
With low maintenance all around, who needs to go on a vacation? Just name the day and time. Everyone will be thrilled to come to your backyard paradise.